I thought my camera was busted.  This is what came up after I took a picture of Josh Norton:

You too can feel this awesome after your workout today!
**!!ATTENTION!!** Schedule Update
This gym will have a reduced class load on Monday, May 27th in observation of Memorial Day.  You will have the option of performing the classic hero WOD "Murph" or another hero WOD (come in to find out what!).  CrossFit class times will only be at 12p and 4p.  The only other classes running that day will be the 8am and 6pm Prep Course classes.
CrossFit Survey
Recently, at the L1 Course in Columbus, an attendee spoke to me about a survey he and his colleagues were putting out to gather information from affiliate owners and athletes.  He plans to publish the results and mark it as one of the first widespread studies on CrossFit-related injures.  If you're so inclined, head to their Facebook page here and learn about it.
Click here to take the survey (approx. 110 questions).  It takes about 15-20 minutes.
5/24/2013:
Strength
the "Bear Complex"
one rep consists of the following:
1 power clean
1 front squat
1 push press
1 back squat
1 push press
perform 7 reps without letting go of the bar to complete 1 round (setting the bar on the ground terminates your set!)
perform 5 rounds for maximum load, rest as needed between rounds
confused?  watch this awesome explanation video from Freddy C. over at CrossFit One World: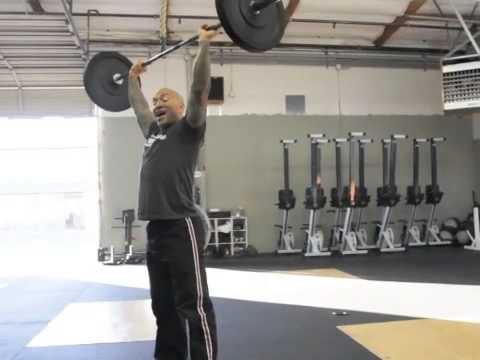 Power Hour
deadlift
racked kb reverse lunge
L-seat hold