Freddy C. over at CrossFit One World made a post about a week ago that addressed the differences between moving poorly and having bad technique during movement.  Many people don't know the difference and I'd like to expound on his post…
Bad Movement
For the sake of CrossFit and the scope of this blog post, we are going to say that "bad movement" is synonymous with "unsafe movement" and will be defined as performing a movement that exceeds an athlete's capacity to maintain natural positions of the musculo-skeletal system with a higher potential for injury.
Basically, if an athlete has bad movement then injury is an inevitability.
An example of bad movement: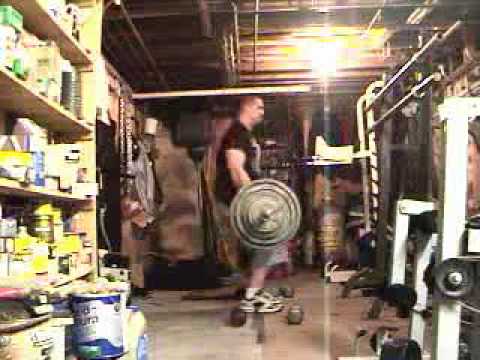 I've always said, "You don't need a degree in Exercise Phys. to know when bad movement is occurring!"
Bad Technique
Bad technique, however, is something a little different.  Having bad technique doesn't necessarily guarantee injury (unlike bad movement).  Having bad technique will be defined as performing a movement inefficiently, as to not optimize energy expenditure in order to complete the movement.
Here, the inefficiency of bad technique in CrossFit training will eventually lead to fatiguing earlier in training, missing a lift, or taking longer to complete a task.
Check out these two athletes performing the same workout:
(By the way, Donny Shankle has nothing to prove here…he is a world class Olympic Weightlifter, not a CrossFitter.  His PR on the Clean and Jerk is over 450lbs…)
In the second video, Donny is so strong that he basically reverse curls and presses his first 20 reps instead of using a more efficient technique.  Both times on this workout, however, are very competitive with elite CrossFit times.  The point is that Donny's time could have been faster had his technique been more refined.
What does this mean to you, an athlete at CFME?
Knowing the difference will help you communicate better with your coach.  In order to make progress in CrossFit (or any exercise program), you'll need to be both a good mover and one with good technique.  We are continuously learning and refining, making progress on both ends.  But…
…the one thing Coaches at CFME will NEVER compromise on is your safety.  If we feel like your safety is at risk, you will go down in weight, substitute the movement, or scale the workout.
9/4/2012 CF WOD:
alternating rounds with a partner, perform 6 rounds for time:
l-seat hold for 30 seconds
400m run
9/4/2012 Power Hour Movements:
board press
ring dips
pull-ups